Pierre Muller has always been obsessed with mountains. His dream? To become a mountain guide! Come his final year at school, the desire still hasn't left him. One day, he talks about it to his biology teacher, who advises him to pursue his studies.  He has the potential to do well! The teacher gives him an idea which will decide everything: medicine. Medicine as a means to become… a mountain rescuer! His parents warn him what he he will be up against,but as usual, they're behind him. A real strength! They organize holidays in the mountain, buy him equipment… they're right there for him.
With his exams behind him, Pierre heads for Strasbourg. He feels a bit fed up. The mountains are so far away! And it's difficult to find people to climb with. Anyway, time for climbing is limited. He has to work like a madman. The distance isn't all bad. Strasbourg is dynamic and the student atmosphere excellent!
Pierre is going through difficult times. He's in his 4th year of medicine. A pivotal year for him. After a memorable time in Africa, which we will talk about in an upcoming article, he is chosen to be the first Erasmus student. He heads for Bristol! A Spanish hostel… Pierre finds himself in a house cohabited by students from all over the world. The English university is very demanding. A lot of work, but a very good student life. There is time to relax: outings and football matches against the English. Cornwall is enchanting. He tries his hand at sailing. And of course climbing in Devon. Pierre makes friends from all over the world, friendships that continue to this day.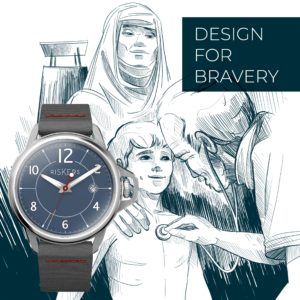 Between his internship in Africa and his student exchange, Pierre's 4th year turns into something rather extraordinary; complicating the boarding school approach. He hangs on. Something new and unusual,  now attracts his attention: emergencies. He hasn't forgotten his mountain rescue project. His internship in Burkina Faso has also affected him. The field of emergencies is something new. Pierre finds himself fully committed.
To be continued …
Pierre Muller – Ambassador of our model Chapter 3
Supported cause : Douleurs sans frontières
Video Pierre Muller