The Chapter 2 is the result of an exciting collaboration between Riskers and a military brigade unlike any other: les "Troupes de Montagne" (Mountain Troops).
Its design embodies strong identity codes, integrating mineral and vegetable elements in a sober aesthetic directly inspired by the mountains and their fighters.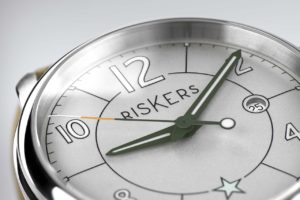 The sandblasted dial recalls the roughness of rock; the eye-catching, glacier-blue star, the North Star, or Scouts' star. It symbolizes extraordinary men and women.
The tundra  green of the hour and minute hands, the sand of the seconds hand and the bracelet, evoke the camouflage outfits of the Alpine troops. The sandy colour speaks of desert mountain rocks.
The caseback is stamped with the Mountain Troops' logo: an eagle's head on a background of stars and peaks. The series stops at 1027. 27 being the number of this daring brigade!
The cause supported by this beautiful quartz model is «Entraide Montagne», which supports the families of these anonymous heroes.