Talking about "the press" is too generic. We prefer to celebrate individuals. The ones who believe in us. Their support has given us visibility, credibility, and above all, confidence! There was a time when we had nothing more to show than our dreams, and the press articles began to tail off, but there were adventurous individuals, who believed in us and out project: Riskers…
First a meeting with Grégory Pons… who offered listening and encouragement… quickly followed by Simon de Burton (Financial Times), Stéphane Gachet (Watch Around), Berthe Daccache (iktissadonline.com), Jonathan Koop (Watchisthis?! Magazine), Elena Introna (soloPolso.it), Thomas Gronenthal (Watchthusiast.de), John Keil (WatchWithUs), Karl Heinz Nuber (Tourbillon Magazine), Bérengère Treussard (Likeab), Trends and Colours, Jean-Philippe Tarot (Montres de luxe), Alex Douglas (Watchpro), Satoviinakit, Henri Liu (Watchisto), Ben Adams and Tim Vaux (Watchgecko), Gary Cotterel (wantedonline), Fernando Correia de Oliveira (estacaochronographica), Marc Menant (Passionluxe.com)…
Then there was the crucial moment: the launch. Here too, feathers were ruffled… with strong words. We can't quote all the articles, but here's a selection: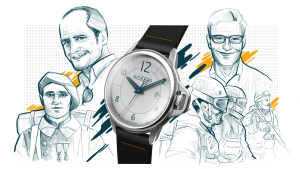 « A new French watch brand is born, created for heroes, inspired by the spirit of the trenches of the First World War, and endowed with extra soul. » (Judikael Hirel – Le Figaro)
« Riskers watches offer a completely original concept and excellent value for money. An affordable luxury! » (Hervé Borne – Paris Match)
« The founders of the fledgling Riskers brand have chosen to dedicate their four new watches to both heroes and noble causes. » (Hervé Gallet – Le Point)
« Today, we're focusing on an all new brand which has caught our eye. Riskers takes its inspiration from the legendary trench watch and combines it with the modern day in one remarkably elegant package.» (Sandra Roussel – Mr Montre)
« On the one hand you have the giants of Swiss watchmaking, who unleash famous and prestigious ambassadors of dubious loyalty… ambassadors motivated to a large extent by the pay cheque and funded in part by end consumers. On the other hand, you have Riskers, who put forward anonymous individuals, devoted to the service of others. They donate part of the proceeds of their watch sales to the associations these individuals represent and the causes they defend. This is a whole new approach with very different values.» (Richard Ségault – Passion Horlogère)
"Each model is inspired by historic or modern day risk-takers, with a portion of the profits going to complementary charities." (Victoria Gomelsky – New York Times)
"The concept and design are different and somewhat off-beat" (Roberta Naas)
"Frankly, there's a lot to like in Riskers reinterpretation of the trench watch. Moving it in a dressier direction is a bold move, and the integrated crown protector definitely gives it a unique – and identifiable – look" (Patrick Kansa – The Wrist Watch Review)
We should also mention Thierry GASQUEZ (L'Officiel), Grégory Pons (Atlantico), Francesco Patti et Dody Giussani (L'Orologio), Thomas Eilrich (DUB UNTERNEHMER), Xavier Markl (Monochrome), Mieux vivre votre argent, Sean Lorentzen (A blog to watch), Serge Maillard (Europastar), 8 Montblanc, Bernard Werk (horloge.info), Jovan Krstevski (Wrist Review), Berthe Baccale, Steve Huyton (www.totaldesignreviews), Berengère Treussard (Likeab), Tempus Fugit.
"Thank you" is a small word, but we don't have a better one. Your encouragement reassures us, while at the same time raising the bar. It make us aim higher and inspires us to dream big!