Un nouvel article de Wrist Review sur l'aventure Riskers intitulé

« Introducing the Riskers Watches »

ou  » Présentation des montres Riskers  » vient de sortir.
"The case is dominated by satin- brushed surfaces that give it a rugged tool watch like vibe but at the same time, the polished bevels on the sides provide it a sense of sophistication."
« Le boîtier est dominé par des surfaces satinées surfaces satinées et brossées qui lui donnent une ambiance de montre-outil robuste, mais en mais en même temps, les biseaux polis sur les polis sur les côtés lui confèrent un sentiment de sophistication. »
Un grand merci  pour ce soutien ! 
Citées dans cet article
Montre Automatique Vintage Prolog 1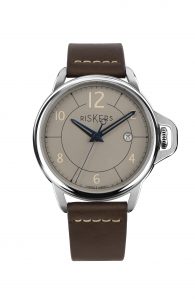 Montre Automatique Swiss Made Chapter 1